The 2018 Sand Plain Ranch Herdwork Invitational was without a doubt one of the most successful, fun and educational events the ORCHA has ever had the privilege to attend.  Hosted by Ron and Megan Stelzl & family, this unique 3 day event gave 16 riders and horses the opportunity to both improve and show off their cutting skills.  NCHA Professional Brian Kelly from Russell, Ontario coached riders on the flag Friday afternoon, focussing on correct position, square stops and rein management.  Saturday began with Brian hosting a classroom-style lesson on rules, penalties and where credit can be earned on a run, followed by instruction on how to correctly settle a herd and choose cattle in preparation for and during a show.
The show portion of the weekend was comprised of 2 rounds on Saturday and 2 rounds on Sunday.  In each round, every horse & rider combination had 2 1/2 minutes to cut 2-3 cows, judged by Brian just like a traditional cutting show.  The unique advantage of the Sand Plain Herdwork Invitational was that after each run Brian would spend a few minutes critiquing the run, explaining where credit had been given and where each rider could improve.  Riders had the opportunity to ask Brian for suggestions which were eagerly applied on their next go.  Over the course of the weekend it was obvious that every rider took Brian's feedback to heart – runs got better, scores jumped up and the leaderboard changed multiple times, with aggregate scores getting closer and closer together.
Everyone was a winner, but taking home the $1000 prize in first place was Werner Bohner, 2nd place and $500 to Alyssa Gowing, 3rd and $300 to Jon Walker.  Thanks to generous sponsors prize baskets comprised of horse gear, home décor, treats, apparel and grooming products were awarded to every rider – thanks so much to Sand Plain Ranch, Connect Hearing, Myristol Performance Products, Phonak, Kate Shoup, Royal Horse Trailers and Greg Wilde, Wayne and Bennet Signs, and Scott from Avon Feed Mill.  Please support them with your business to show your appreciation.  Also a big thanks to the Walker family for supplying cattle, the best Herd Help we could ask for, photographers, chefs and everyone else who contributed to make this weekend such a success.
Brian, you are welcome back anytime – you fit right in with our club and the feedback you provided us was wonderful.  Just over the course of 3 short days it was amazing how much information you were able to share.  Thanks so much.
Ron & Megan, we cannot say enough how thankful we are for this opportunity – you opened your home to us, fed us (you are master event planners and chefs!) and gave us an opportunity to learn.  We joke that the ORCHA is one big family, but it's the truth, we are family, and you just hosted the family reunion – we love you for it.  A million thanks from all of us.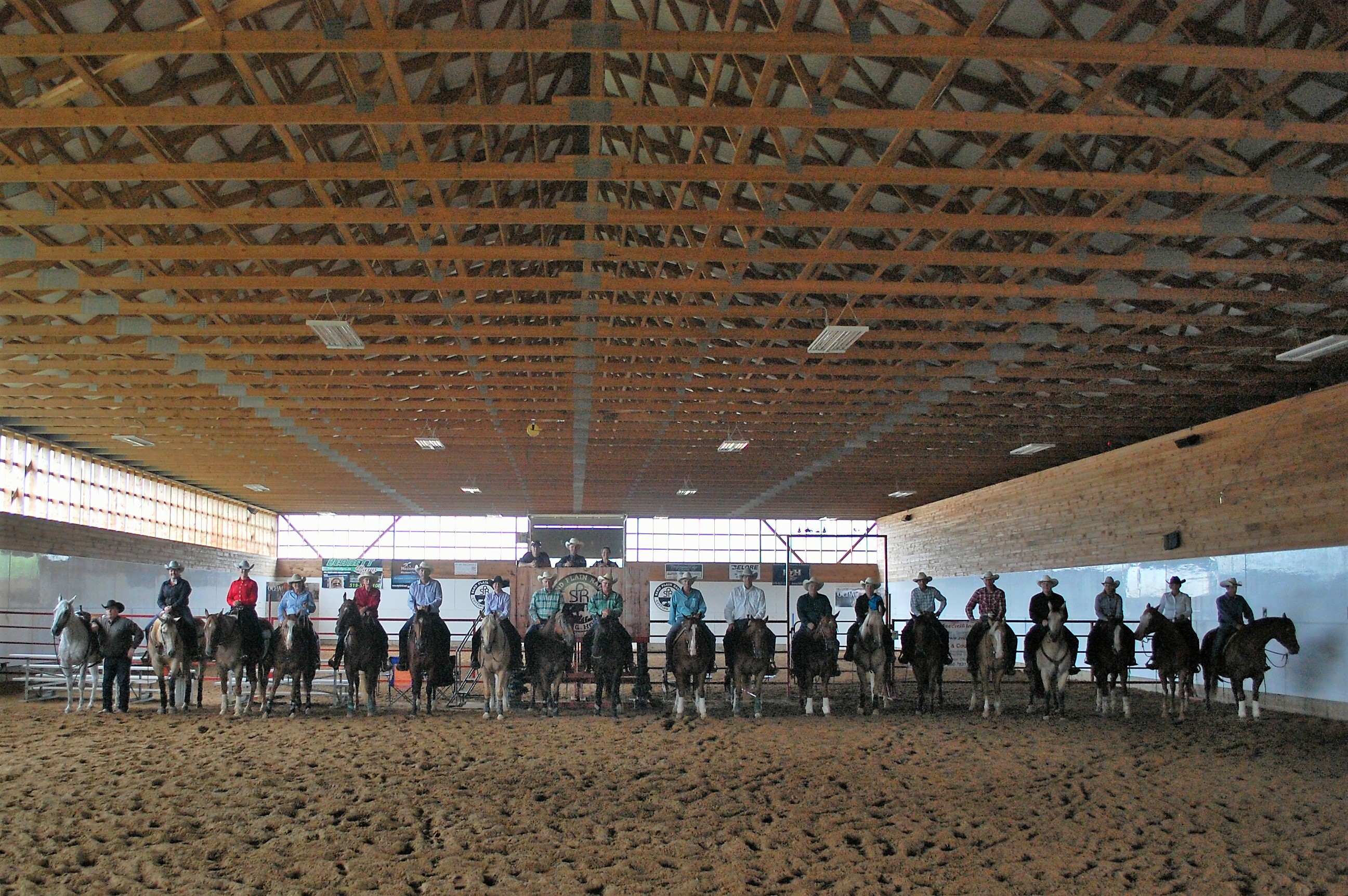 (above: from L-R, Dean, Shelly H, Jen, Jacquie, Neil, Werner, Sherry, Ralph, Tim, Dave, Jon, Nelson, Shelly C, Craig, Chad, Don, Alyssa, Lynn & Ron)
Ron, our gracious host, congratulating the winner – Werner Bohner
Jon & Bob, laying it down!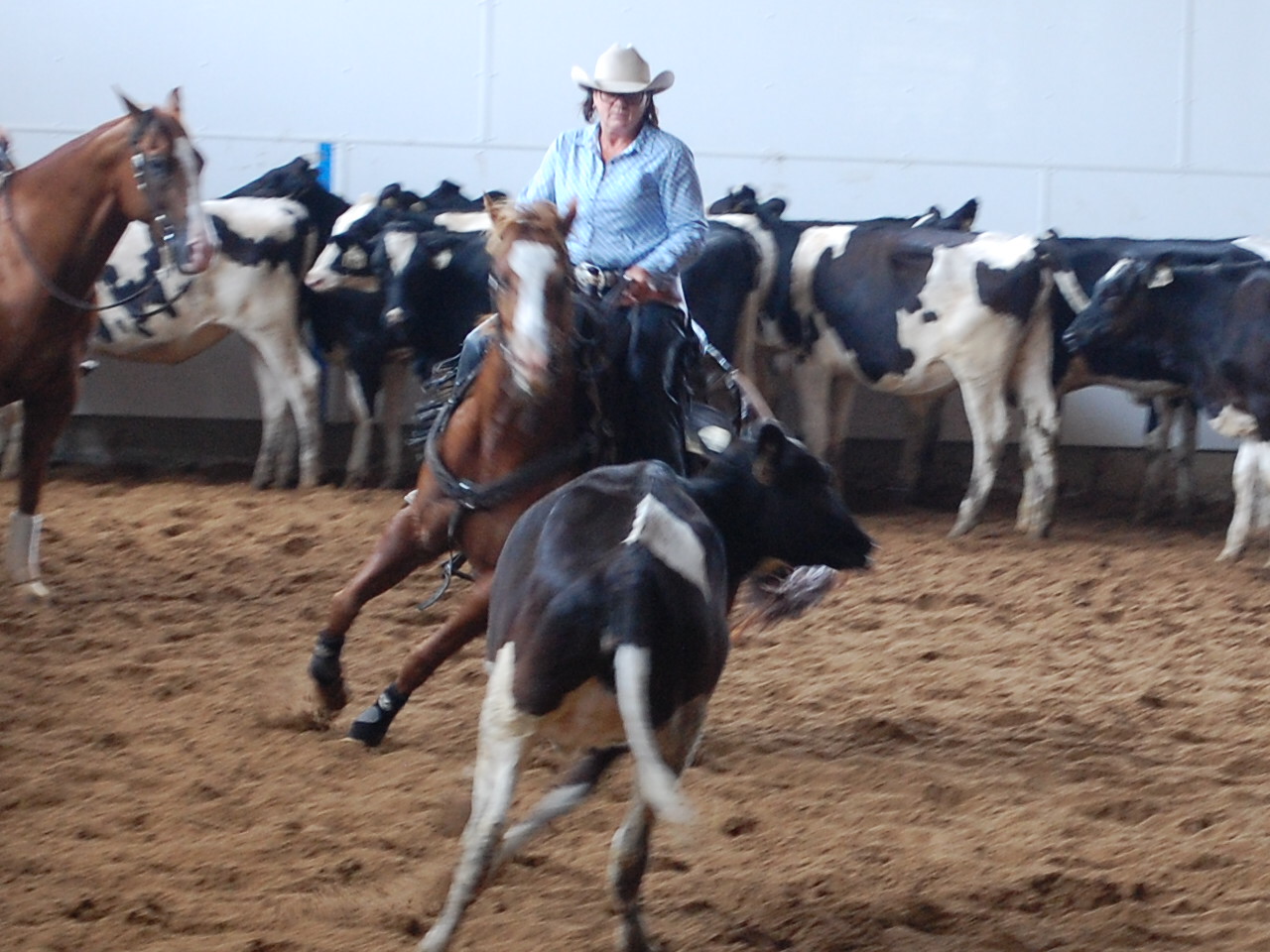 Jacquie and one of her mighty herd of red-headed mares!
Lynne & the age-less Karat